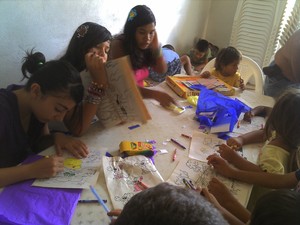 This seems to be a time of year, along with the holiday festivities and the New Year, for endings and new beginnings for us at Children's Shelter of Hope Foundation and for our projects here in Puerto Vallarta.  Sendero de Esperanza y Amor (Pathway for Hope and Love), a small home for teenage girls that we have assisted for a year now, decided recently to change the path and direction they are going.  They are moving their efforts and focus to the Bosques de Progreso neighborhood (site of the old dump) in order to partner with the New Beginnings Mexico (www.newbeginningsmexico.org) facility to support many children and their families living there in extreme poverty.  Andy and Janet Stevenson, from New Beginnings, have established strong relationships with that community and are offering educational, vocational, nutritional, and medical assistance mainly to the adults in that area.  Sendero de Esperanza y Amor has agreed to begin and maintain a support program for the children by:
Connecting with the schools to provide supplies, uniforms and shoes, transportation costs, etc. for children in danger of dropping out for financial reasons;
Offering daily tutoring for homework and enrichment opportunities for children at the New Beginnings facility;
Arranging for doctor, nurse, and dentist interns to provide services to the children on a regular basis; and
Developing activities specifically for babies and toddlers to stimulate their growth and development.
The Board of Directors and staff from Sendero are very excited about this new direction and Children's Shelter of Hope Foundation is pleased to continue supporting the wonderful work they are doing.  If you are interested in supporting  this effort or would like more information, please contact Chris at chris@cshf-us.org or send a donation marked "For Sendero."
NOTE:  The teenage girls who were living a Sendero have returned to live with their families or are now at Corozón de Niña, a larger shelter for girls in Puerto Vallarta.