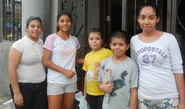 Many of you are familiar with our scholarship program with New Beginnings/ Sendero, SOS – Sponsor One Student, which supports financially-challenged, exceptional students living in impoverished conditions in the Puerto Vallarta area. The staff and volunteers identify motivated, dedicated, and serious students enrolled in secondario (middle school), prepa (high school), a university, or a special vocational training program but are in danger of dropping out of school or not continuing to attend for financial reasons Their attendance
and progress is closely monitored, and a minimum GPA (grade point average) is required in order to continue receiving SOS support. .  Over a dozen students have been "rescued" in the past two years through this program by receiving financial support, including enrollment and tuition expenses, transportation costs, books, uniforms, shoes, backpacks, basic school supplies, etc.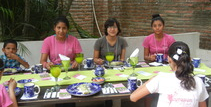 We, at Children's Shelter of Hope Foundation, would now like, with your help, to expand the SOS program to a different program.  Throughout the past year we have been impressed with a relatively new, safe and loving home for teens and their siblings called Corazón de Niña  and have begun offering monthly financial support for a teacher/tutor and shoes.  Recently we decided to increase our commitment to include funding for a psychologist as well.  However, Melissa, their founder and director, has asked our help through the SOS program with another large need.  There are eleven bright and deserving teens currently living in this home who are in prepa (high school).  Melissa clearly understands the importance and power of good education, and has enrolled these eight female and three male students, ranging in age from 15 to 18, in an innovative private school called Manhattan School, which offers a condensed high school study program.  Students study intensely one subject per month; for example in November their focus was COMMUNICATIONS.  They attend classes for an hour per day in order to get specific instruction,  review assignments, and take leveled tests.  They then spend the remainder of the day back at Corazón de Niña working together and with the teacher/tutor on related skills and assignments.  And, in only 12 months at this school, they are able to earn a regular high school diploma.
Of course, there is a cost for a special program such as this one – 1000 pesos (about $63 US) per student per month or about $750 US per year.  If you too can find it in your heart to believe in and help these very special SOS students at Corazón de Niña, for a donation of $325 US or more, we will send you regular photos and updates about your student, as we do already with our other SOS program.  Again, let's work together to change the cycle and give hope to these teenagers.  Send your donations to Children's Shelter of Hope Foundation (or to New Beginnings Mexico for Canadian donors) marked For SOS – Corazón.  Mil Gracias !!