A child of the 1960's, I always looked forward to the holidays – snow, gifts, and a bounty of food. It was also the time of year when our family received a special letter and photo of an orphaned Asian child that we sponsored.

I remember the photos and letters.  Children that looked different.  The handwriting, and even the paper, was different than anything I'd seen.  The letters included genuine gratitude for the food, clothes, and shoes that they were able to purchase with our donation – everyday items that I had never considered doing without.
Those annual experiences gave me a life-long appreciation for the seemingly random circumstances of my healthy birth into a financially stable, compassionate, and loving family.  I realized that the world was much bigger than my pampered neighborhood.  I recognized that others weren't always able to have the basic necessities of life – shelter, food, clothing. Moreover, I learned that helping others was a great thing – it made me feel good too.
So, although I've never visited RISE, as a 10 x 10 sponsor for 3 years, I cherish the personal connection that I feel.  I know that my donation makes a difference in the life of an innocent child.  And, I love seeing and sharing photos of all of the beautiful, happy children there.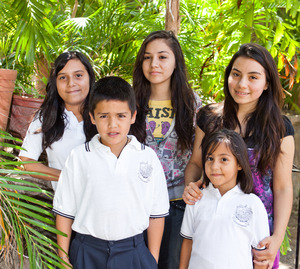 As the new coordinator for the 10 x 10 Sponsorship Program, fellow sponsors have recently received a "Multiplication Message", encouraging them to share their CSHF experience with friends or family with an enclosed note card, featuring a photo from RISE.  In addition to providing annual growth and interest reports, CSHF will also be thanking donors that contribute at least $365/year toward the Sponsorship Program with 10 (blank inside) 5 x 7 RISE photo note cards (and envelopes).
In addition to the "Monthly 10 Donation", I've also introduced 2 new levels for the 10 x 10 Sponsorship Program: the "Daily Coffee Donation" and "Daily Dollar Donation."  I urge anyone considering sponsoring a RISE child to do so – and multiply the message.