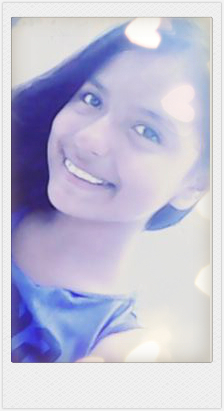 We have recently been inundated with requests for support through the Sendero' SOS (Sponsor One Student) educational scholarship program. The Sendero Board of Directors each year identifies motivated, dedicated, and serious students in the Bay of Banderas area, enrolled in secondario (middle school), prepa (high school) or a university program, but who are in danger of dropping out of school for financial reasons.  The goal is to "rescue" these students by offering financial support; including enrollment and tuition expenses, transportation expenses, books, uniforms, shoes, backpacks,
basic school supplies, etc.  Their attendance and progress are closely monitored by the Sendero staff, and a minimum GPA (grade point average) is required in order to continue receiving support.  Currently six students are receiving help from SOS. This month, one student's application in particular caught the attention of the Sendero Board and warrants our attention.
Kisia Cuellar Miranda, 14 year-old girl, is in her second year of middle school and needs economic support to stay in school without being a financial burden to her mother, who has leukemia. Her mother continues to work as a security guard, when she is able.  Kisia shared that her mother's medications are very expensive. As a single parent raising 3 children, her mother is struggling to make ends meet. Kisia's 10 year-old sister is in 4th grade.  Her 17 year-old brother quit school already and now works at a car wash in order to help the family.  Kisia is an excellent student with a GPA of 9.9 out of a possible 10.  She wants very much to stay in school and has a strong desire to succeed. 
A donation of $300 will make it possible to pay for Kisia's school tuition, uniform, books, etc. for one semester.  Please help us to make a difference in her young life by making a donation today marked "For Kisia".