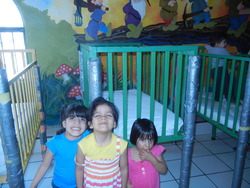 No, this is not an advertisement for a mattress store sale.  It is a challenge!!  Let's see if we can raise enough money in the month of March to replace all of the old, tired, and, in many cases dirty mattresses that the children at Refugio Infantil Santa Esperanza (RISE) sleep on each night.  Many of the mattresses have been on beds there for over ten years.  None have ever had mattress covers.  There are currently:
10 cribs with small mattresses in the nursery,
12 smaller trundle beds and  extra pull out mattresses in the toddler bedroom;
30 twin size mattresses on the bunk-beds in the three bedrooms for girls, and the one bedroom for boys.
The average cost for replacement mattresses is $200 US.  Please make a donation marked "Mattresses" TODAY or sometime during the month of March so that we can buy new mattresses for the children right away.  Thank you!!