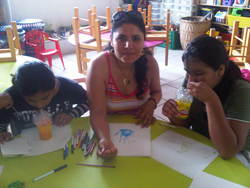 This spring yet another miracle occurred at the Refugio when Bety, a bright, enthusiastic psychologist arrived looking for work.  She is EXACTLY what we have needed to help the children work through emotional scars and issues and has been a PERFECT addition to our staff at RISE.
Beatiz (Bety) was born in Guadalajara, Jalisco has 3 brothers; one living in Guadalajara and 2 others living in San Francisco with their families and her parents. She is married to Jose Luis and has 3 beautiful daughters; Melisa, 11 years, is in 6th grade, Michelle, 7 years, is in 1st grade and Maya, 2 years, is in day care.
Bety graduated from Universidad De Guadalajara in 1999 and in 2007 studied hypnotherapy in Palo Alto for 15 months. She lived in San Francisco for 13 years and worked for Saint Vincent De Paul Society for 12 years working with poor and homeless people.  At the same time she opened a community place with 2 other therapists to help poor people who did not have insurance.
Bety shares "The things that I like best at the Refugio is to have the opportunity to work with the kids and be part of their education and life, and most of all to give them confidence to be a good person when they grow up.  My biggest challenge is helping them to value what they have in their lives, to be grateful for the food, and most of all to value all the love that they receive from the people here. Being part of the Refugio has changed my life.  Now they are part of me and every day I try to leave them a positive thought.  THANK YOU FOR GIVING ME THE OPPORTUNITY TO MAKE MY LIFE FULL OF LOVE AND HOPE."
Update: A new staff member has been hired as of March 2012 to assist both Bety and Luiz. Expect more information on new and current RISE team members in the near future.