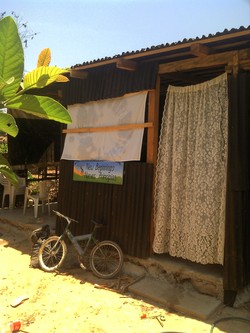 Many of you read and generously responded to our "Addendum – Fire" special newsletter sent out on April 14thabout the devastating fire that destroyed the meager homes of four families living in the area adjacent to the old dump.  Bety recently offered this happy update.
Andy and Janet Stevenson from New Beginnings were able to purchase building materials and necessary supplies right away because of donations received from Children's Shelter of Hope Foundation.  The four families, including 10 children, stayed at the New Beginnings facility and were fed each day free of charge until mid-May when they were able to move into their newly rebuilt homes.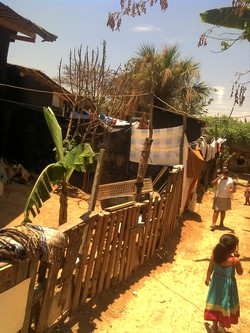 A team of young adults from Canada came in early May and took on the construction project.  It was recommended by DIF, a Mexican government agency that oversees the needs of children and families, that the new homes be built with tar paper, as before, so that others living in the area would not think that burning their house down is an easy way to get a much better place to live (a sad reality); however, the construction of the four new homes was done with wood beams and more solid techniques, and the homes are substantially larger and more comfortable for the families than before.  Each home now has electricity and a functioning bathroom.  They have been furnished with new beds/bedding and other necessary furniture; kitchen appliances and needed cookware/food/paper goods/etc.; and each family member has plenty of new clothes and shoes.
All of these fire victims, along with the people at New Beginnings and Sendero de Esperanza y Amor and the board members of Children's Shelter of Hope Foundation, would like to extend a very special MIL GRACIAS to those of you who jumped in to help during this emergency situation.  Life is much better now for these families because of your efforts.