What is Pasitos de Luz?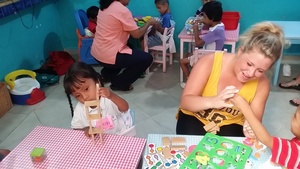 "Pasitos de Luz" stands for "Little Steps of Light" in Spanish.  This amazing non-profit daycare center provides assistance for low income families in the Bay of Banderas area who have
children suffering from severe physical or psychological debilitating conditions. Pasitos was founded more than fourteen years ago by a determined group of mothers who were desperate to have a place where their special children could receive decent levels of care and attention.  Today Pasitos is a lifeline for more than 122 families who rely on them to care for their children during the day so that they can work and survive.
Currently Pasitos functions only as a daycare center open on weekdays; however they are hoping to complete a project within the next year which is a much larger facility, called Casa Connor, which will enable them to provide overnight and weekend care as well. To learn more about Casa Connor visit their website at http://www.casaconnor.org
What services does Pasitos de Luz provide?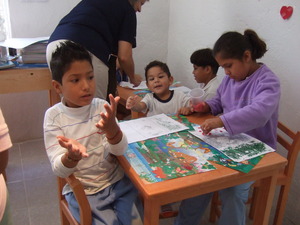 Pasitos offers a huge range of essential services, including physical rehabilitation, psychological care, speech therapy, nutrition, medical attention, and much more.  Since most of the children at Pasitos are not able to participate in the public mainstream educational system, they have four educational specialists on staff in separate classrooms at the center who provide for the wide variety of ability levels. These teachers work on activities ranging from puzzles, games and artwork to basics such as learning the alphabet, colors, numbers, and even reading.  In addition, they help the children with daily life skills including shoe tying, dressing, brushing teeth, etc.
Children's Shelter of Hope Foundation is currently providing monthly funding to pay the salary for one of these educational specialists, and also donates educational supplies and materials regularly.
Does Pasitos de Luz charge for these services?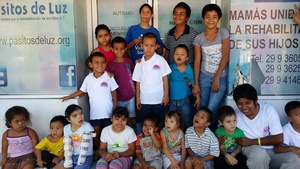 NO, all of the children who receive support, nutritious meals, and care at Pasitos do so completely free of charge to the parents. The staff conducts frequent fundraising events and activities, and depends entirely on support from volunteers plus local and foreign benefactors, such as Children's Shelter of Hope Foundation. There are currently 25 paid staff members at Pasitos.
Can I visit or volunteer at Pasitos de Luz?
YES, Pasitos welcomes visitors and is always looking for trained professionals and retirees living in the Puerto Vallarta area who have extra time and want to make a difference.  To arrange for a visit or find out more about volunteering send an email to Fernando at pasitosdeluz2@gmail.com or to chris@cshf-us.org
What are the current needs at Pasitos de Luz?
Pasitos is in constant need of cleaning supplies, detergent, air fresher spray, and baby wipes.  To arrange for the purchase and delivery of these supplies please contact chris@cshf-us.org