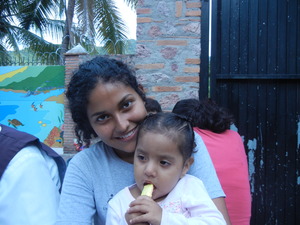 Some of you may recognize this beautiful young woman as a child who grew up at RISE from age 5 ½ until she left our transition home to live with her aunt at age 15.  Elsa, who is now 22, has returned to our lives as a wonderful, energetic nanny for the toddlers and older children at RISE, and also as a recipient of a Sendero SOS (Sponsor One Student) scholarship to study English at Lingu Franca School.  She now lives in the Jardenas area, a suburb of PV, with her adorable little daughter, Alexandra – age 2.  Elsa has two brothers and two sisters, whom she sees occasionally.

Elsa knows and understands the needs of the children at RISE from a personal perspective.  She is loved and respected by the children, Madres (nuns), and other staff members for her ability to keep everyone busy with toys, activities, and/or a rousing game of soccer.  She has a tender heart and a close relationship with many of the older girls at RISE.
Elsa sees English classes as a way to expand employment opportunities in the future.  She has just completed the second level with perfect scores on her exams.  Sendero de Esperanza y Amor supports Elsa's educational efforts by contributing $60 US monthly toward her school tuition, books, and other educational materials.  You can help Elsa or any of the other dedicated and motivated students to reach their educational goals through Sendero's  SOS – Sponsor One Student by sending a donation right away marked "SOS." For more information about this program and the RISE 10 X 10 Child Sponsorship program, please read the article below or refer to our website – www.cshf-us.org.