The normally quiet summer months in Puerto Vallarta were positive and productive for the children living at Refugio Infantil Santa Esperanza, a shelter for young children.  Several important changes to the 13-year-old facility occurred, making it more comfortable and welcoming for the 40 children currently there living full-time.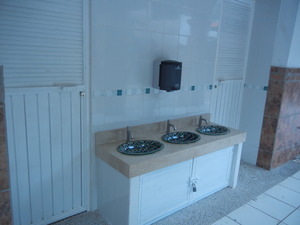 First, the original small downstairs bathroom next to the laundry room was remodeled FINALLY.  The space was divided in half, providing a girls' side with 3 toilets and one shower; and a separate boys' side with 2 toilets, a urinal, and 2 showers.  Most importantly,
the plumbing was replaced with larger pipes so that the toilets flush properly and the floor drains allow for cleaning without leaving standing water.  WHAT AN IMPROVEMENT for those of us who have cleaned and unplugged toilets for years!  And, 3 low small sinks were installed just outside the doors to the bathrooms to make hand washing easy and effective.
Second, the congregation from a Catholic Church in New York, whose pastor visited RISE last spring, did an amazing fundraising campaign to provide enough money to finish the chapel space located on the lower front section of the RISE property.  It has been waiting for windows, door, stairs, floors, railings, etc. for at least 5 years.  The children and Madres will soon have a beautiful area for evening prayers, classes, and other religious activities – Madre Mari's dream has come true at last!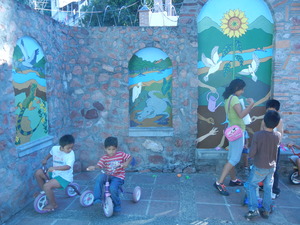 In addition, several groups and individuals helped to do some yard work and painting.  A special group from England, with the assistance of some of the older children, painted some stunning murals in several places in the playground area.  The new facelift is producing many smiles of pride from the children, staff, and volunteers as they give tours to visitors.
Children's Shelter of Hope Foundation will continue in 2015 to offer monthly support of RISE and Sendero de Esperanza y Amor via staff salaries, educational and medical needs, and special projects as funds are available.