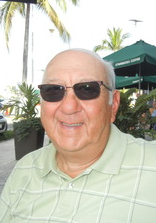 We are very happy to introduce you to our newest board member, Al Tomaselli.  Al, and his lovely wife, Joanne, have lived in Portsmouth, New Hampshire for 12 year; however they wisely choose to spend the  winter months in Puerto Vallarta where they have a wonderful condo at Bay View Grand in the Marina area.  Al has 4 grown children and 4 grandchildren.  He retired 12 years ago from a successful but intensive, 7 day per week career in his family's floral business.  Joanne was an elementary school teacher for many years.

Al says that he feels very fortunate now to be able to help charities and children in need.  Joanne is an accomplished artist and has volunteered for several years at RISE doing art lessons and special projects.  One day Al went along as they were decorating Valentines cookie and he was "immediately hooked".  Since then he has helped to fund and coordinate several projects at RISE; including the new walk-in refrigerator installed last spring, and most recently a new changing table for the nursery upstairs.  He and Joanne are 10 X 10 sponsors of several children at RISE through Children's Shelter of Hope Foundation; and have donated paintings, sold LOTS of tickets, done the table decorations, and been very helpful with fundraising efforts for the children in Puerto Vallarta.
We welcome Al to the Board of Children's Shelter of Hope Foundation and look forward to his new energy and enthusiasm for our efforts.
---