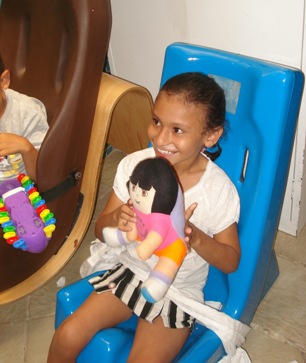 The Mexican tradition of coming together at the "posada"/ inn or shelter for a celebration during the holiday season was enjoyed by the children at Refugio Infantil Santa Esperanza (RISE) and at Pasitos de Luz this past week.  Hotel Marival in Nuevo Vallarta sponsored and participated in a magnificent fiesta.  The staff brought EVERYTHING (including tables and chairs for the children and guests) and spent the evening mesmerizing the children with entertainment complete with Disney characters, serving tamales and other tasty treats to everyone, and then giving gifts of new shoes and clothes to each special child at the shelter.  After the piñatas the children finally wandered off to bed with "visions of sugarplums," candy and loving friends "dancing in their heads."
At Pasitos de Luz, the daycare center in Puerto Vallarta for children with severe handicapping conditions, the children also received special gifts, ate cake, and shared lots of love as they gathered with the staff, friends, and family members to wish one and all a FELIZ NAVIDAD!
If you'll be visting Puerto Vallarta during the holiday and are interested in attending their Posada please contact us.
AND to all of you a Próspero Nuevo Año 2012 as well.