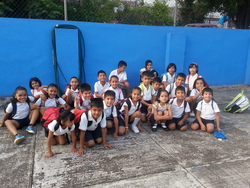 We are happy to report that the start of the school year in mid/August proved to be a happy experience3 for the children at RISE and Sendero thanks to donations from many of you.  At RISE 35 children arrived at their preschool, elementary school, middle school or high school on the first day with new uniforms, backpacks, and school supplies.  In addition, The Seavor Foundation in England, which brings a group of volunteers each summer to help for a month at RISE and Sendero, was able to purchase new school shoes plus tennis shoes for each RISE student.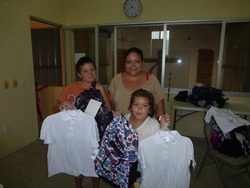 At Sendero (partnered with New Beginnings Mexico in helping children and families living near the old dump site) contributions, including a very generous donation from the Chesterfield Community Church in Chesterfield, Indiana, allowed Children's Shelter of Hope Foundation to purchase and distribute 60 + backpacks filled with crayons, erasers, pencils, glue, scissors, notebooks, etc. and 45 white school shirts.  Sendero also was able to pay the registration fees for all of these students so that they could start the new school year on the first day.  Tuition expenses and school supplies were also provided for six Sendero SOS students.  For more information about the opportunity to Sponsor One Student (SOS) please check our website – www.cshf-us.org under the Sendero/ SOS button.
Thanks again to all of you who help us to make a major difference in the lives of these precious children by attending to their educational and medical needs.