By Maria Beatriz Flores Olvera (Bety) – Psychologist at New Beginnings/Sendero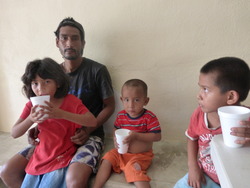 We have three special families living in the area of the Old Dump near the New Beginnings facility, who need help in different ways.  Their situations are not good, but our biggest concern is for THE CHILDREN.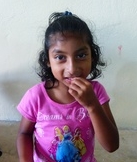 The first case is JOANA.  She is a 5-year-old child who has been diagnosed with microcephaly, a rare neurological condition in which a child's head is significantly smaller than normal.  This can occur because of a variety of genetic and environmental factors, and often results in developmental issues.  Joana does not talk and is sick frequently.  She needs a special medical test that will cost about 2,900 pesos (about $230 US).  Recently she started having convulsions.  Joana need to drink ENSURE milk every day, but her family cannot afford it. She also needs diapers and diaper wipes.
Another struggling family is that of Santos Cortez and his three children.  The children's mother left them last spring and moved to a different city.  The oldest child has to take care of the two little ones while the father is working at the dump.  Nayeli is 7 years old, in the second grade and is very smart.  She cooks for the family and does everything in the house.  Her brother Antonio is in first grade and the little one, Alexander, stays at home or with a neighbor when Santos is at work.  New Beginnings and Sendero are helping this family with therapy, as well as medical and educational supplies.  They need a sponsor to help with basic food, clothing and cleaning items.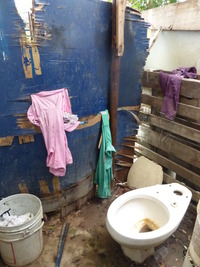 The third family of concern is the one of Don Santos, a 65-year-old man with three grandchildren.  His son left the three children with him a year ago and has never come back.  Dulce is 8 years old and in second grade; Christopher is 6 years old and in first grade; and Cristian is 5 years old and just started to go to kindergarten.  Don Santos needs help to support his family since he cannot work because he is sick much of the time.  New Beginnings and Sendero are providing medicines and school supplies; however, like the other two families these children need basic food, clothes, beds and A DECENT BATHROOM.
Please help, if you can, by sending a donation for Sendero to Children's Shelter of Hope Foundation.  THANK YOU.